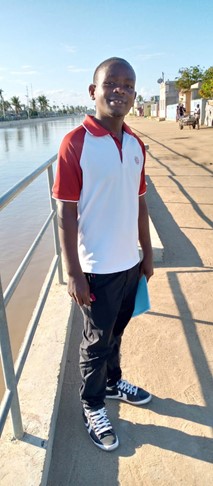 2021
Hello
I am Basilio Paulo Janissone Muchanga, I am one of doctor for Mozambique student since 2017.  Now I am doing 4th year of medicine at UCM.  In this letter I will try to summarize  how my third year was done during 2020 to the beginning  of 2021. Well, the year 2020 was a year of disaster. As you know it was the year that the pandemic covid was declared. Because of this it very much influenced the socioeconomic life in the whole world. I mean it affected everything. If I am talking about only my studies, it affected the continuity of lessons (many interruptions) and it made changes in  the method of study prioritizing much more online studies which was not good  because of lack of electronic material and unsecure network to support this modality. But at that moment we started to face it  like the new reality.  But it was not  easy  because covid terrified human life and this led to a great difficulty to articulate  all the problems made by covid, but we tried what we could and got through. Without delay I want to take the opportunity to thank Doctors for Mozambique for the support given during the year and I send my greetings to all members of DFM without forgetting the couple Dr Harrie and  Dra Gitta
2020:
I am Basilio Paulo Janissone Muchanga, now I am doing 3rd year of medicine. First of all I would like to greet all of you who have the opportunity to read this letter. Secondly I would like to take the same opportunity to summarize", all actions" taken up during 2019, the year that I did my 2nd year of medicine and it is the same year in which Beira city here in Mozambique has been damaged by cyclone IDAI. In the beginning, everything was good before 14th of March, but on that day, everything changed to the worse for all Beirenses and this hindered progress enormously. But I want to believe that every episodes of 2019 helped me and others to understand some concepts like solidarity and get experience of many things linked with our social life. My second year was very interesting because I learned a lot of basics principals in the preclinical phase and it helps me to understand how and which attitude to take to be a good professional in health area and it increased my courage to face any obstacles in my student career. However, I thank God who protected me during and after those episodes and who made me belonging to this huge family DFM that helps in different ways. That is why I should thank all DFM and APESMO members for the help given…
2018
First my greetings goes to all members of DFM without forgetting Drs Gitta with her husband Harry.
I am Basilio Paulo Janissone Muchanga, I am so happy for 2017 because that was the year that I started to be a part of DFM foundation and I did my propedeutic year. Second I would like to thank DFM foundation for your help because I had many experiences and I took a lot of advantages to learn English because now I am better than before. Without forgetting DFM students also, because I can say that the propaedeutic wasn't easy because without someone who had experience helping me or giving me directions I could not do. When I started to do propedeutic I had many problems such as familiarization with university, to adapt me to the method that is used here, but with help of others DFM students I passed. Now I am starting to do the 1st year of medicine and I still need your help until the end of story.
2017
My name is Basilio Paulo Jassissone Muchanga. I am 19 years old. I was born in 1998 on February 15 at Espungabera, Mussorize district, province of Manica. My parents are born in Mussorize district and still alive. I am from Manica district. At this moment I am living in Beira, Inhamudima neighborhood. I began school in 2005 at the primary school in Mussorize. In 2012 I was transferred to Joaquim Alberto Chissano secondary school where I did grade 8 till 10. After that I transferred to Teresa Amuli Nhalingue secondary school where I finished grade 11 and 12 in 2016. I am a teenager without conditions who has a dream of doing the medical course. I this moment I am doing Propaedeutic year with the help of Doctors for Mozambique Foundation. This organization is very important to me because it gives me the opportunity to study