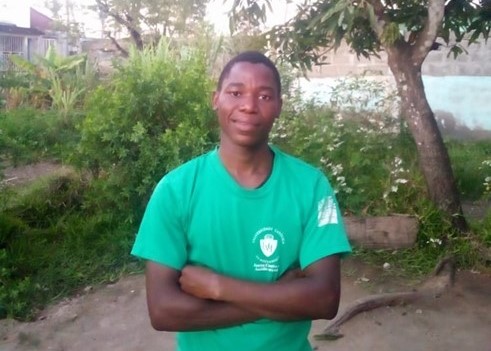 2021
 I am Charles Marcelino Chale, a fifth year medical student, I am very grateful for your confidence. Now I am owing normal exam of pediatric rotation and I passed all other rotations in normal exam . Now I want to pass pediatric rotation and to go in the sixth year. Thank you very much for your confidence special to Dra. Gitta
2020
I am Charles Marcelino Chale, a fifth year medical student. I am very grateful for your confidence and last year, I completed the fourth year with your help and I am not owing one block. Now I want to do the fifth year without any problems. Thank you very much for your confidence special in Dra. Gitta
2018
I am Charles Marcelino Chale, I need to greet all Doctors for Mozambique members and other collaborators.
Firstly I would like to thank the association for trusting me. I am well and I entered the year 2018 very well and I hope that you are all well too.
I am very happy to belong to this wonderful family named Doctors for Mozambique. Last year I was doing the second year and I passed with a lot of success. Summarizing I loved the second year, specially the weeks that I spent I a health center known as Nhaconjo Health Center, in Manga-Beira where I learned about vaccination, maternity and Pre-natal service. It was amazing, I felt like a Doctor.
This year I started the third year and I will study harder and harder, I hope that you will continue trusting me as you have been doing.
Beira, February 2018
Charles Chale
2017
To greet all members of this association. My name is Charles Marcelino Chale, 21 years old. I am medical student of the Faculty of Health Sciences (FCS). I am well of health and I passed my first year and it was good, but with some difficulties for example block 1.2. I had the minimum mark of the year (10) but on the other side I had good mark for example 1.6. I had the best value of the year (16.95) and it was good. Some abilities marked me, for example the dissection of the abdomen in the central hospital of Beira (HCB) and it was exciting for being the first time to have ability of this nature.I hope to do my better next year.
Charles Marcelino Chale
January, 07, 2017
2016
Greeting to all members of this association
My name is Charles Marcelino Chale, I live in Beira. First of all I want to thanks God for this opportunity he is giving me and my all family. The last year was very good because I passed all subjects of last year with the help of my colleague with success. My holidays were good because I passed together my family. I hope to do this year with success. God blesses all of us.
2015
My name is Charles Marcelino Chale,  born on July 28 1996. At the moment  I am living with my parents and with my younger brother. We live in the 14th Bairo Nhaconjo. I completed the 12th class in secondary school Sol de Mozaqmbique where I was one of the best students. I was invited to compete for one of the scholarships of Doctors for Mozambique Foundation at the selection weekend in Nazaré on 23 January to 25 January 2015. There I followed several activities and was selected as scholarship student. I am from a humble family with few financial conditions and without means to pay my studies at university.
I am enjoying my first weeks of classes at the faculty of Health Ciences, both the environment and the teachers.
Thanks for the confidence you place in me.
Charles M. chale