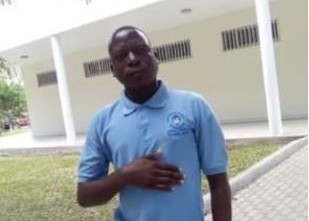 2021
I'm Francisco Fernando Gomate I'm a DFM student at the Faculty of Heath Sciences at the Catholic University at Mozambique. I'm a 4th year nurse student. Last year my  student life was very complicated due to pandemia and my Heath  condition. Mos tof the classes were online. Thanks to God I managed to reach the goal.
Although  we were  paralyzed with Covid-19, it was possible to have the best of experiences in some evidence-based  practices in the service sectors at the central Hospital. In the case of community Health it was not possible to have a mobile  brigade .
Beira, June 26,2021.
2020
Welcome Doctors For Mozambique 2020.
My name is Francisco Fernando Gomate, I am  student of  third year nurse  course  at the Catholic University of Mozambique.
2019 was a year of challenges. It was not possible to achieve the objectives that I outlined, because the most understanding adaptation in the pathologies, it was a bit complicated considering it was the first time to come into contact with pathologies.
2018
I'm Francisco Fernando Gomate, I'm in good health.
I do not have much to talk about, I only want to inform you that the propaedeutic year for me has occurred normally, nothing of the evil happened to me.
I hope it happens the similar or the better than last year.
Without anything else to speak, I wish you all a good greeting. thank you
By: Francisco Fernando Gomate
2017
My name is Francisco Fernando Gomate, born on April 7 1996 in Machanga. I am physically disabled, grew up with my mother and brothers. My father left my house in 1996 after I was burned with fire that took me to be deficient when I was exactly 2.5 months of age. I had health problems since 1996 until 2003.
My mother is a farmer, my father a carpenter and he lives in Beira. In 2005 I started the first class with support of the government, INAS (National Institute of Social Action) and of my mother. Thank God I finished the class. During my studies I never failed and I never had a negative except for Portuguese in grade 12.
There was a pedagogic director from the Santa Teresinha school who knew the story of my life and knew me for having very high marks, 15 in the 12 grade, being one of the best students of the school.
This pedagogic directed me to compete for an UCM scholarship. Thanks oh God I got my scholarship. So I am doing the propaedeutic year of general medicine at FCS Faculty of Health Sciences.
Beira, February 20, 2017