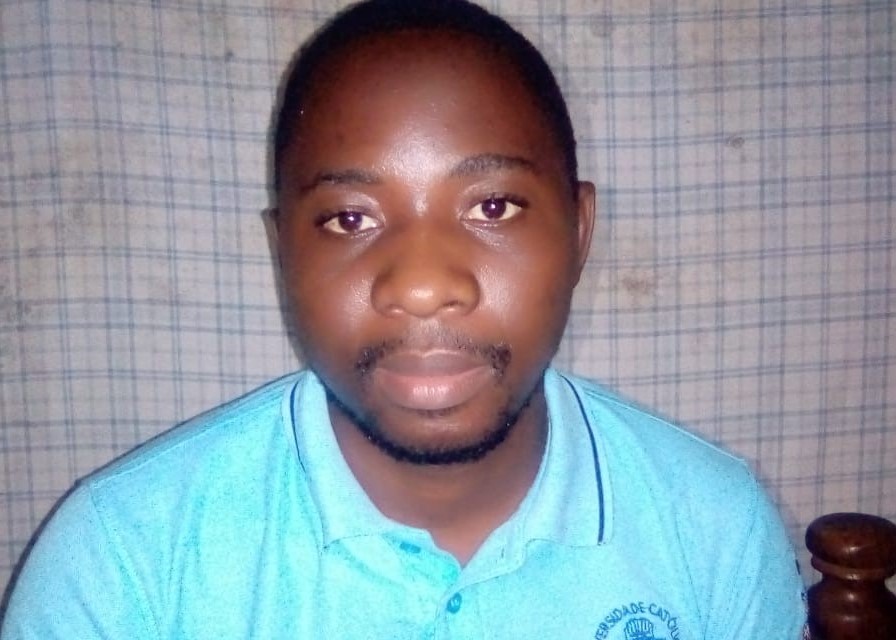 2023
My best greetings. I am Jolasse Alfiado Massinga, a finalist student in medicine. Firstly I would like to thank Dra Gitta and Dr Harry and all the donors in general for the support and help that you have been giving to use from propaedeutic year till now. My 6th year is being interesting because I have the opportunity of practicing the theory and practicing skills in an integrated manner, as we are finalist and almost Doctors.  During the year I didn't have many difficulties and have been passing the exams. I had opportunity of assisting some abdominal and chest surgeries.
I would like to thank the visit of the new secretary of Doctors for Mozambique, dra Thia. I would like to thank once again for all you have been doing for us and our country.
2022:
Hello
I am Jolasse Alfiado Massinga, medical student of 6th year .
Firstly I would like to thank God for the gift of life and Dr Harry and Dr Gitta and every members and donors of Doctors for Mozambique foundation for the support you have been giving to us from the beginning of the course.
I think my 5th year was very interesting.  I learned and became skilled doing lumbar punction, thoracocenteses and I saw a lot of surgeries. During the rotations I liked more pediatrics and internal medicine because of the fact of dealing with diseases that require treatment using drugs and requiring high quality of the medical doctors thinking and acting quickly. I had opportunity to be  well oriented with great doctors,  some of them from Dfm , such as Dr Eugénio Simango and I learned a lot.
For the 6th year I hope to improve my clinical approach and study well the treatment of the diseases.
I would like to thank you all once again for your unconditional love and support.  May Lord bless you all.
Thank you
2021
Hello. My name is Jolasse Alfiado Massinga, I'm a 5th year medical student.
Firstly I want to thank God for the life. My family and I are healthy, until now no one got infected by covid-19. We are still preventing ourselves from covid-19 because is a reality and it's very dangerous.
The 4th year was extremely difficult because of coronavirus. During this time we had a lot of interruptions. During the interruption we had lessons online using Google meet and Moodle, the experience was not good because we had a lot of network problems and we did not have so many skill practice that we should have had.
I want to thank Doctors For Mozambique, Dr. Gitta and Dr. Harry for the help and support that they gave me during this time.
I am happy for being in clinic phase, and I hope I will learn more in real situation with patients in Beira Central Hospital.
To finish, I say thank God and everybody who supports me from propaedeutic year until now.
2020
Hello! My name is Jolasse Alfiado Massinga, medical student fourth year.
My third year was good and I learned a lot about diseases. The third year is the introduction year of pathology, which is so interesting for all medical students, and it was not an exception for me.
I really liked the blocks of internal medicine [3.5 (fiver 1) and 3.6 (fiver 2)]. Which talk about infectious diseases, such as: tuberculoses, urinary tract infection, sexual transmitted diseases, HIV/AIDS, Malaria and others.
During the year, I had a lot of difficulties which started in March with cyclone IDAI, it destroyed my house, material of school and I remained with post traumatic stress.
I want to thank Dra. Gitta, Dr. Harry and all members of Doctors For Mozambique for the material and psychological help which all of you gave me.
I hope this year I will learn more and I will be successful in the examinations.
To finish I say "my best wishes".
2018:
Hello, I am Jolasse Alfiado Massinga.
This is my third year at the University and second year of the course. The course is going well and my knowledge is getting stronger. My first year was very funny and exciting. I learned a lot of things what was a mystery for me such as how the brain coordinates body's movements, process and integrate information as a computer.
At the beginning, it was a little scary the method of learning (PBL) but with my effort it didn't take long to get used to it. It's a very helpful way of learning. Among all the 1st year blocks, my favorite one was the 3rd block (interaction and integration) because it was very interesting to learn about the Nervous system. It's physiology is the most interesting among all the systems.
I am so happy because last year I had the opportunity to meet some of the donors of the foundation; I am talking about Mr. Frank and his wife, Miss Coby. It is good to know who is helping me, therefore it was a pleasure to meet them.
Last year one of important adviser went back to Netherlands, I am talking about Dra. Leonie. I am sad and happy at the same time. I am sad because she was a very active adviser in the organization here in Mozambique, and I me happy because she said that she was going to be near the family and continue doing what she loves. I miss you aunt. Going back to school, my lessons are going well; when someone is doing something that one's wants it becomes easy.
I have 3 families which I care for in Family Health; it is very interesting and good to help other people, taking them to hospital when they are sick.
To be a good medical doctor is not just to know anatomy, physiology or to know the medication but de good medical doctor must regard patients as a whole.
2017
Hello ladies and gentlemen, my name is Jolasse Alfiado Massinga. Firstly I say thank God for putting you in my life and thank Dra. Gitta, Dr. Harry and all members of DOCTOR FOR MOZAMBIQUE organization for the help and support that you are giving me to do this course. Also Dr. Mauane and Dra. Leoni, they often help us showing how to study well and what should be done to keep good behavior, telling us good and funny histories. My propaedeutic year was very interesting, I saw exactly what I have to do so that I can do my course successfully and be a medical doctor, I will continue following this way to help people. My country (Mozambique) has few medicals doctors that help treating people who are ill. I think that the medical doctor is the heart of good health in all countries, because he shows people how to live healthy cleaning and keeping good hygiene in the community, I want to do it for all people, so thank you for the opportunity. I am very, very happy for the help.
2016
I, Jolasse Alfiado Massinga was born on 2nd of March 1995 in Mutua, Dondo district in Sofala province. Thank God my parents are still alive. They live in Mutua, do not have a job and live from agriculture. I have 7 siblings and a nephew who lost his parents when he was a child and lives with us like another son. So we are 9 siblings. My dream to do this course came from a vocation and my dream which I already have for a long time since I came to know a very sympathetic and gentle doctor in the Central Hospital of Beira. I want to thank dra Gitta, dr Harrie and dr Mauane who are the representatives of the "Foundation Doctors for Mozambique" and who had the initiative wanting to help us who do not have financial conditions to do the medical course. I also want to thank the president of DfM in Holland and all others who are giving me this help. Thank you very much.